Reviews of Broadway (and Off-Broadway, for that matter) cast recordings!
By Mallory Bolduc
---

Welcome!

Okay, okay, you Broadway fans talked me into it -- it's not the reviews of shows you wanted, but the cast recordings. (Hey, I'm 12 states away from New York, it's the best I can do. ;)) Enjoy, feel free to send me suggestions, and... you know, come back and stuff. Scale of 1 to 10.
---
Aha, I see you thought you'd be free of the links at the top of the page! Bwahaha... well, you're right. But here's something anyway.
Broadway Cares/Equity Fights AIDS -- a charity site
Deck Plans -- The coolest site, in honor of Titanic, the grooviest musical.
---
Titanic: A New Musical (1997-present)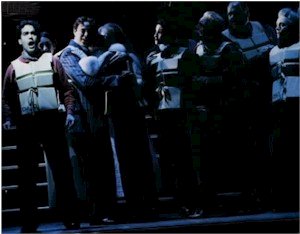 Sing it, Brian! Brian d'Arcy James singing "We'll Meet Tomorrow"
*teenage mode* Like, omigosh, this is so totally, like, the grooviest most collosal awesome musical since, like, 1600 AD, 'kay? *non-teenage mode* Seriously, my favorite musical. (And, YES, I got into this before the flick about the big ship....) How DID I get into this? I mean, we're talking a 13-year-old girl (hey, I got into this when I was 12...), and we're talking 1997, and, I mean, if there's no Leonardo in it, why be big on a boat musical? Well, partly BECAUSE there's no Leonardo in it.... (It's refuge. ;)) Actually, at first, because Remember WENN fans stick by its stars, and when word got out that Matthew Bennett (Doug Thompson, a guest star) was in it you could find five fans on the newsgroup alone who had the CD the next day. (It took me two months. I'm so pitiful.) Whenever I got it, though.... I think that this show has the best cast (which includes talents like Brian d'Arcy James, Michael Cerveris, Martin Moran, Matthew Bennett, David Elder, Ted Sperling, David Garrison, William Youmans, and, ah, I think there are some women in the show, too ;>), with a great crew and WONDERFUL songs. Titanic's music is definitely, well, sophisticated (which is good) -- even "Doing the Latest Rag" makes me consider the fact that if I should ever meet composer Maury Yeston I will get on my knees and say repeatedly, "I am not worthy!..." You know, I really hope you've read some of my other pages before this or you'll think I'm REALLY psycho. => Okay, anyway. This show includes my favorite song ever, "The Proposal/The Night Was Alive," a duet between Brian d'Arcy James (Frederick Barrett) (who's proposing to his girl back home) and Martin Moran (Harold Bride) (who's professing his passion for the telegraph). Plus other works of genius, of course -- "There She Is" (think, boarding of the ship), "Lady's Maid" (the emigrants dream of a better life), "Mr. Andrews' Vision" (the builder of Titanic realizes that, uh, the outcome doesn't look too good), and a ton of other great songs. If you're going to get any cast recording ever in your life -- get this. Maury Yeston songs, Jonathan Tunick orchestrations, and Kevin Stites conducts. Rating: 10 stars (That was a nice and lengthy review....)
---
How to Succeed in Business Without Really Trying! (1995)
When I got this cast recording, it was like a little voice over my e-mail -- "Mallory, buy H2$... it's great... it has Martin Moran, Victoria Clark (both in Titanic, see above, BTW), Kristi Lynes, and, uh, some Matthew Broderick guy." (Come to think of it, that little voice was my friend Fiona.... *shrug*) Anyway. So I replied to the little voice (this is gonna be your nickname for a loooong time, Fi), "Okay... I, uh, guess." And I went to Blockbuster Music and bought it. And you know what? THIS CAST RECORDING IS SOOOOOOOO GROOVY!!!! Sorry. Ahem. I hate to, um, confess to it, but I only got this cast recording because of Martin Moran, Victoria Clark, and Kristi Lynes. I didn't even know who Matthew Broderick was!... (That's reeeeaaaally pitiful, Mallory....) But... I got the cast recording. (Apparently.) And, to be honest, I think I've listened to it most waking seconds. I can't pinpoint what I love so much about it... actually, I can, but I think I've blown whatever reputation I might've had with my pitiful-ness already.... Okay, okay. The Loesser songs -- "Coffee Break," "The Company Way," "Brotherhood of Man," "I Believe in You," "A Secretary is Not a Toy," the title song. The Tunick orchestrations (I'm a little, eh, preoccupied with the orchestrations....). The Ted Sperling conducting (my gosh, I LOVE this conducting....). When you combine that with an awesome cast -- the already mentioned, and Jonathan Freeman (Mr. Pruitt to Remember WENN fans), Jeff Blumenkrantz (the perfect Frump -- not bad in Remember WENN and Anastasia (1997), either), Megan Mullaly, and a bunch of others -- you get a REALLY cool revival of an already grooving show! Rating: 10 stars
---
Floyd Collins
I know, this CD is really weird, and it's been called "Bartok meets bluegrass," which can get scary, and it's really, really weird (I haven't mentioned that before, have I?), but... THIS CD IS GENIUS!! Ahem. Sorry. Honestly, however, uh, strange it can get (this is the only CD my mother has ever MADE me turn off when we listen to my music in the car -- I think "The Dream" got to be a little too much for her....), I LOVE this cast recording. It's definitely not for everyone, but I think when it comes down to it people have to admit that this CD is sheer genius -- Adam Guettel is great, and this REALLY shows it. Not to mention the swell cast, many of whom also appear in Titanic (see two reviews above this one), including Matthew Bennett, Martin Moran, Brian d'Arcy James, Theresa McCarthy, and Michael Mulheren. Conducted by Ted Sperling, too (he's also doing the new Guettel show, Saturn Returns, if I'm right)! "Is That Remarkable?" is absolutely hilarious (mainly because it's funny to hear Matthew Bennett and Brian d'Arcy James with the nasal reporter voice after hearing their swell REAL voices in Titanic =)), "Lucky" is great, "The Dream" is WONDERFUL (that part with the whole company singing gives me chills -- there's only so bad a song can be with a chorus of tenors and high baritones, after all), and on and on.... Personally, I LOVE this cast recording, but it is probably acquired taste.... ;) Rating: 9 stars


Click on the ribbon for more info.
This page created June 3, 1998 by Mallory Bolduc. Copyright (C) 1996-97. Do not use any pictures or articles from this page without permission. Thank you. Links are welcome. For permission to use contents of this page, e-mail me. But you groove for reading the fine print!