Mallory's Classic Movie Homepage
Take a wild guess... that's right, the original homepage for classic movie reviews!
By Mallory Bolduc
---
Hello, Fellow Classic Movie Watcher!
I haven't seen nearly as many classic movies as musicals, so this is currently a pretty small homepage. I guess all I have left to do is make a TV Series Homepage - hey, that's a pretty good idea....
---
-Go Back To My Musical Homepage-
-Might As Well Go To The Bolduc Homepage-
My TV Series Homepage (Just Kidding)
The Unofficial Fred Astaire Fan Club - from me and my e-pal Carol
Check out my very own You Might Be Obsessed with Musicals If....
Like classic movies? Check out the AMC (American Movie Classics) Homepage for info on memorabilia, classic shows, books, and a chatline!
And a question... what is The Kid From Brooklyn? I currently have it as a musical in my Musical Homepage .
---
This page was started August 4, 1996.
Harvey (1950) - James Stewart, an invisible rabbit
Very good. Stewart sees an imaginary rabbit, so his mother tries to get him into an insane asylum. Very good performances. (I don't have much to say; there's no score.) Rating: 8 stars
---
My Favorite Wife (1940) - Cary Grant, Irene Dunne
Very good! When Dunne gets shipwrecked, everyone thinks she drowned, and she is pronounced dead. Then her husband, Grant, gets remarried, but on their honeymoon, Dunne shows up! Very entertaining. One of the funniest movies I've ever seen! Rating: 8 stars
---
The Philadelphia Story (1940) - Cary Grant, Katherine Hepburn, James Stewart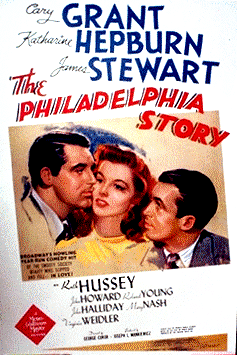 Later remade as High Society. Grant and Hepburn get divorced, and Hepburn is going to be married the following day, when Grant and 2 reporters from Spy magazine come to her house. Very good movie. Rating: 7 stars
---
Arsenic & Old Lace (1944) - Cary Grant, Priscilla Lane
You'll never belive me, but I'm not much of a Cary Grant fan. It just happens to be Cary Grant week on AMC, and anyways, if you're going to run a classic movie homepage, you have just got to review this! So here it is. Very good movie. I saw the fakely colored version, and some people just belong in black & white. Well, Cary Grant is one of them. This co-stars Edward Everett Horton, Fred-Ginger regular. Cool. This is a Halloween tale, about two ladies who kill their victims by putting arsenic in their wine. Actually, when Cary Grant is on screen, it's hilarious, but when he's not, it seems like they're trying to make it suspenseful, but I personally don't think it works. Rating: 7 stars
---
Bringing Up Baby (1938) - It's still Cary Grant week on AMC, + Katherine Hepburn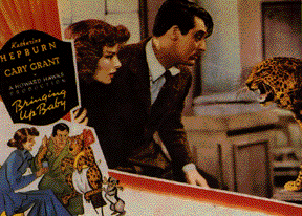 They showed this 3 times in one week, which I think was pushing it, but I still enjoyed it every time I saw it. Cary plays an engaged archaeologist, and Katherine is an annoying lady. They get hold of a leopard named Baby, and they have to sing to it to get it to come to them. I especially liked the dog, George. :> Rating: 8 stars
Note (added 3-18-97): You know George? Does he look familiar? He may -- it's Asta, from the Thin Man series.
---
It's a Wonderful Life (1946) - James Stewart, Donna Reed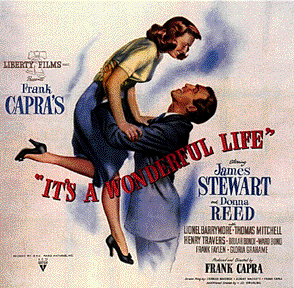 And so it is. This movie is about an angel, Clarence, trying to earn wings, so he is sent to Earth to help James Stewart (but that's practically the end). This movie goes through the star's life, age 12 through current times. Catch Stewart's daughter in this movie - she was Mary Elizabeth in Blue Skies! The blonde also co-starred in Oklahoma!, but that's it. :> Rating: 9 stars
Note (added 12-20-96): Hey, it's my favorite holiday movie!
---
Ninotchka (1939) -
Melvyn Douglas, Greta Garbo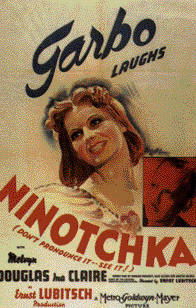 "Garbo Laughs!" read the publicity labels for this movie, and it's true. She does laugh. But not until half-way through the movie. :> Watch for a cameo by George Tobias, who also appeared in the remake. This is a very entertaining movie, with both laughs and romance. Remade as Silk Stockings. Rating: 9 stars
---
Francis Joins the WACs (1954) - Donald O'Connor, Julia Adams, Chill Wills, Mamie Van Doren
A swell and funny Francis flick. In this one, Chill Wills (the voice of Francis) makes an on screen appearance as the general. Donald is accidentally drafted into the WACs. He gets put in something similar to a mental care center when he starts on the fact that his fellow mule can talk, but only after he becomes a lieutenant. When it's discovered that Francis really can speak, everyone helps Donald get out of "psycho" in time to lead the WACs in a contest against the male army. Rating: 8 stars
---
Where There's Life (1947) - Bob Hope, Signe Hasso
Bob is Michael Valentine, a spokesperson for Sparkle Dog Food. He is about to be married when he is declared the king of a European country, but, unlucky for him, there are people set out to destroy the king. Signe Hasso is his guardian. Very funny, and... romantic?
Rating: 7 1/2 stars
Note: I got a kick when Signe saw an ad on the wall of a building for Blue Skies with a picture of Bing Crosby on it -- she asked, "Who's that?" Bob replied, "A singer, before your time," then splashed water on it.
---
My Favorite Blonde (1942) - Bob Hope, Madeleine Carroll
Madeleine is a spy who drags Bob and his trained bird or penguin or something into her business by setting him up with a special pin (I think?). Bob gets his Bing cracks, and more!: when, trying to escape from the cops -- oh, did I mention this? The "bad guys" frame Bob for a
murder -- Karen Bentley (Madeleine) and Larry Haines (Bob) run through a door and get in a line, Bob asks the man standing by the door what the line is for. That man by the door happens to be Bing Crosby. He replies, and Bob walks off. Halfway through a step, though, Bob looks up (now it hits him), looks back, and says, "Nah." Toward the beginning of the movie, when Bob turns on the radio, the broadcaster says, "This is Bob Hope--" Bob immediately turns the radio off, explaining, "I can't stand that guy." Rating: 7 1/2 -- All these spy movies are the same (see Where There's Life, right above this review).
---
It Happened One Night (1934) - Clark Gable, Claudette Colbert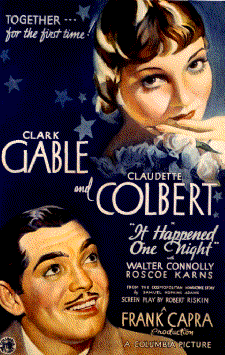 Claudette is a spoiled (and married) brat. When her rich father tries to get her marriage annulled, she jumps their boat and flees to catch the first bus from Miami to New York. Clark Gable is a drinking and cheating reporter, who meets Claudette and won't leave her alone. His tricks include telling everyone that they're married. The trouble is, they fall in love, but Claudette is already married. This film has several memorable scenes: the "Walls of Jericho", attempts at hitch hiking, how to convince the detectives that they really are married, and more. Romantic and hilarious. Rating: 9 stars
---
Beau Geste (1939) - Gary Cooper, Ray Milland, Robert Preston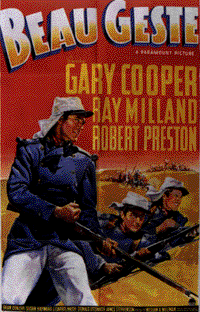 Freaky. This is a really cool movie, with an opening sequence that, in my opinion, hasn't been matched yet, not to mention really good acting. This is about three devoted brothers, Beau, Digby, and John Geste. When a precious sapphire is stolen, they all go and join the army. Catch 13-year-old Donald O'Connor as little Beau Geste. Rating: 7 1/2 stars
---
Laura (1944) - Dana Andrews, Gene Tierney, Clifton Webb, Vincent Price, Judith Anderson
A swell noir flick with some wit from Waldo Lydecker, a wonderful theme song (psst, catch in on the Boston Pops CD, conducted by John Williams, "Unforgettable" -- groovy CD in itself, too :>), and, heck, some romance, too. Definitely one of my faves -- like, see it.
Rating: 8 1/2 stars
Note (added 1-17-96): If you love this swell (and haunting) theme song, catch it on "David Raksin Conducts His Greatest Film Scores" -- music by David Raksin, lyrics by Johnny Mercer.
Note (added 3-5-97): Nominated for four Academy Awards (Supporting Actor: Clifton Webb; Direction: Otto Preminger; Screenplay: Jay Dratler, Samuel Hoffenstein, Betty Reinhardt; and Art Direction/Set Decoration (Black and White): Lyle Wheeler - Art Direction, Leland Fuller - Art Direction, Thomas Little - Interior Decoration), and won one for Cinematography (Black and White): Joseph La Shelle, in 1944.
---
The Little Princess (1939) - Shirley Temple, Richard Greene, Ian Hunter
Classic tale about a girl whose father (Hunter) is drafted. Dramatic and, at times, musical. A nice show, and in color, too. => Rating: 7 stars
---
Macbeth (1948) - Orson Welles, Jeanette Nolan
That's right, the Shakespearean tale. Surprisingly good, with Roddy McDowell as Malcolm, the prince! (BTW, my language class is performing a very condensed version of Macbeth March 10, 1997 -- I'm Lennox.) Did I mention that McDowell looks different now?; he recently guest starred on Remember WENN! A pretty good movie; the version I saw showed all the characters with Scottish accents, and pure Thespian acting. A nice show for people who go for Shakespeare (e.g. me....). Rating: 7 stars
---
The Thin Man (1934) - William Powell, Myrna Loy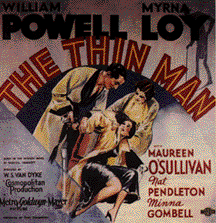 A nice comedy-mystery. I didn't really think that the mystery part, well, was a theme for the show -- but then, whatever the story didn't carry, the comedy made up for! => BTW, Asta, the dog, also plays George from Bringing Up Baby -- or so I hear.
Rating: 7 1/2 stars
---
The Miracle of the Bells (1948) - Fred MacMurray, Valli, Frank Sinatra
A drama I thought was wonderful! Olga (Valli) is a Polish girl whose dream is to play Joan of Arc. When Bill Dunnigan (MacMurray) gets her the part, she's going to finish the movie... even if it kills her. A flashback film, surprisingly good. I'm not telling the miracle. => I'd recommend this to anyone... even if it is sort of depressing. I'd watch it again. See it.
Rating: 8 1/2 stars
---
The Best Years of Our Lives (1946) - Frederic March, Myrna Loy, Dana Andrews, Teresa Wright, Virginia Mayo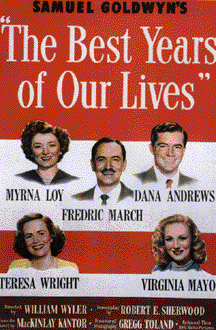 A comedrama (I love that word -- or is it one? =b) about three soldiers returning home from war. Better than a movie I've seen with a similar plot.... Very good, romantic, dramatic, with funny moments and touching moments. Also, see this if you're into star-spotting. For example, find Dana Andrews starring in every other scene (:>), or Steve Cochran as "Cliff". For some, this movie may lag on, though -- almost three hours long! I think it was worth every second, though. Rating: 9 1/2 stars
Note: Guys, read this! My dad saw this and said that he thought of this as a girl movie. That doesn't affect my view, because I'm a girl, but I just thought you all may like to know.
Note (added 3-27-97): Yes, that is Hoagy Carmichael as Butch, the piano-playing bar owner! See Canyon Passage for another Hoagy movie with his, ahem, "co-star" in this movie, Dana Andrews!
Note (right after the previous one): Harold Russell (Homer, that is) took home two Oscars for this movie: the first one for Best Supporting Actor (and in his film debut!), the second a special one for bringing hope to veterans and like -- after all, Russell was actually veteran who lost his hands (in real life =b)! Another note: Samuel Goldwyn's wonderful quotable. "I don't care if it makes a nickel. I just want every man, woman, and child in America to see it." By the way, I have only come across one critic who didn't think this a practically perfect film: Pauline Kael (and, golly, she's picky!).
Note (right after the previous): Not only was Harold Russell the only actor ever to win two Oscars for the same role, but Frederic March won Best Actor, William Wyler won Best Directing, Robert E. Sherwood won Best Screenplay, Daniel Mandell won Best Film Editing, Hugo Friedhofer won Best Music in a Dramatic or Comedy Picture, and, of course, The Best Years of Our Lives is the best picture of 1946 -- officially! => Kudos!
---
Canyon Passage (1946) - Dana Andrews, Susan Hayward, Brian Donlevy, Hoagy Carmichael
My first western, unless my memory is shorter than I remember it being.... => Anyway, very good. Susan Hayward's western-debut, but Dana Andrews was rather accustomed to the plot -- he not only got his start at the Pasadena Playhouse, but he, you could say, rised to stardom from westerns in the early '40s! Filmed, ahem, "on-location"... in Oregon, that is (it's set in Jacksonville, or maybe Jackson, I forget). And you may recognize that crooning cowboy, the singing buccaneer, as Butch, the pianist/bar owner in the above movie, The Best Years of Our Lives! (Also known as Hoagy Carmichael, by the way. =>) His songs (often played on his beloved, er, ukelele) include "Ole Buttermilk Sky" (which may be recognized by some), "Silver Saddle". A nice movie, with some good quotes, nice tunes, and, eh, interesting scenes (what can I say, it's, I think, my first western). Rating: 7 1/2 stars
---
An Affair to Remember (1957) - Cary Grant, Deborah Kerr
A swell movie about two people, each either engaged or almost engaged :>. They agree to meet six months later on the 102nd floor of that big building out there. =b Umm.... Well, whatever. Anyway, something bad happens, which you can probably guess (but remember, you didn't hear it from me), and Deborah doesn't show. This was a nice, romantic, comedic, and sad movie. (I'm almost embarrassed to say that I've had this movie since Christmas and now, in April, I -finally- watch it. =b) Good title tune, and the kids sing alot. :> Rating: 7 3/4 stars
---
It's a Wonderful World (1939) - Jimmy Stewart, Claudette Colbert, with Guy Kibbee
A wonderful <ahem> screwball/detective story. Really romantic (eh, mebbe) and funny, with slight suspense in the meantime. Really, really funny. Stewart tries to prove his client innocent of a murder, but, after taking Colbert hostage, can't seem to get rid of her.... :> Rating: 8 stars
---
Or, you can always write me....
Coming Soon: Holiday, Double Indemnity, Tobacco Road, A Walk in the Sun, Tea and Sympathy
---
Index

This page created with Netscape Navigator Gold



Click on the ribbon for more info.