The original homepage for musicals reviews!
By Mallory Bolduc
---

Welcome!

Here is my homepage dedicated entirely to one thing - musicals. I will keep everyone updated on the musicals I see, even though I have had a head start. I'm not sure that many people really like musicals, especially other 12 year olds. But, for all those people who do, here it is. A homepage with reviews, comments, and facts.
OH MY GOSH! I'm actually *gasp* CUTTING DOWN ON LINKS! I know your shock....
My Music Article
My Mallory's Musical Homepage Poll
Mallory's Musical Homepage Trivia
How much do you really love musicals? Enough to use my I Luv Musicals icon?:>
My Musical Index - in case you're in a hurry to find a certain review
*Go To Mallory's Musical Homepage: The Sequel*
*Go To Mallory's Musicals Homepage: Part 3*
Hello! Tis I once more, Mallory. I haven't updated in forever, and it may not be coming soon -- I just started high school this year (yes! age 15 now!), and I am very busy. (For the record, I am very tired of those losers who get the urge to tell me that my page is stupid because it hasn't been updated in a long time. Leave me alone. I know where you live.) Expect no new reviews, probably, but I hope you enjoy this page either way. By the way, Camelot gets 8 1/2 stars, because it kicks arse (I love King Arthur tales), but I don't like all of the music. Enjoy my page! Forgive me! I love you all! Thank you so much!!
Check out my birthday tribute to Gene Kelly
Go to my Dana Andrews fan page
I am a proud winner (as is this page) of the Award Ward Award!
Now: The Unofficial Fred Astaire Fan Club , by Yours Truly and her e-pal, Fiona !
My very own (and very small) Classic Movie Homepage !
Check out my very own You Might Be Obsessed With Musicals If....
---
This page was started on July 8, 1996.
"Robert Petrie"
"I feel like Donald O'Connor, Fred Astaire, and Gene Kelly all in one!"
-Dick Van Dyke, "Dick Van Dyke Show"
"Ricky Ricardo"
"Well, I'm not exactly Gene Kelly, but I guess I could do it."
-Desi Arnaz, "I Love Lucy", to Bob Hope
"Oscar Madison"
"What's with the Gene Kelly?"
"Now it's Fred Astaire!"
-Jack Klugman's character, "The Odd Couple", and I may have those names in the quotes mixed up =P
"Babs Bunny"
"Esther Williams, eat your heart out!"
-On "Steven Spielberg Presents Tiny Toon Adventures"
Brigadoon (1954) - Starring Gene Kelly, Cyd Charisse, and Van Johnson
This was a wonderful musical (and so far [July 8] the latest one I've seen). I figure that if I even say what this is about, it would give away the whole thing. But with Arthur Freed for the producer, Vincente Minnelli for the director, and choreography by perfectionist Gene Kelly, this film can't lose. Score includes "Heather on the Hill". This is a crying movie.
Rating: 8 1/2 stars
---
Blue Skies (1946) - Starring Fred Astaire , Bing Crosby, and Joan Caulfield
This is in my opinion one of the greatest films ever made! Fred Astaire and Bing Crosby play rivals after the same girl. This includes "Running Around in Circles" and Astaire doing a wonderful dance to "Puttin' on the Ritz" in which they had to film him doing the same thing 9 times. Also a highlight is Astaire-Crosby duet, "A Couple of Song and Dance Men."
Rating: 8 1/2 stars
Note (almost a year later -- 3/30/97): After this film, Fred Astaire officially declared retirement -- a retirement which lasted a full two years, until Easter Parade. Gene Kelly was originally to star in that movie, but he hurt his ankle playing football. He recommended Fred to be his role (they had previously danced together in Ziegfeld Follies), and he quickly accepted (still being polite, though, asking if Gene was sure he didn't want to wait until he was better). So, I guess you could call Blue Skies Fred's first official retirement... kinda.
Note (added 7/6/97): Depressingly (is that a word? Hmm....), Mark Sandrich was the original
director of this (he also directed Fred and Bing's first spoof together, Holiday Inn ), but he died of a heart attack nine weeks into filming.
---
Want to go to my new Roberta review?
---
Shall We Dance? - An Astaire-Rogers musical, with Edward Everett Horton, Eric Blore, Jerome Cowan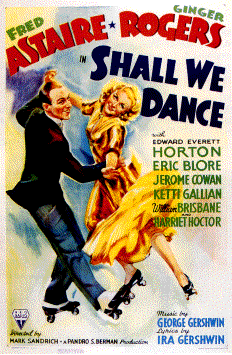 Very good. Pete P. Peters a.k.a. Petrov (Astaire) sees a picture of Linda Keene (Rogers) and decides to marry her. I have to admit that this is the most entertaining musical so far. The score is by George and Ira Gershwin, includes "They Can't Take That Away From Me", and the wonderful "Let's Call the Whole Thing Off" (performed on roller skates). See it. Definitely a weeper. Rating: 8 stars
Note (added 11-15-96): If you're one of those "eether" people and would prefer joining us few "eyether"s, watch eyether (:>) this, Top Hat, or Roberta, even though Shall We Dance goes further into the subject. :> ("You say eether, I say eyether... Let's call the whole thing off...")
Note (added 7/6/97): Gee, it's so... funny... looking back on these reviews from a year later!!!!!!!!! Hey, anniversary, people!!!!! :> Well, okay, almost a year. :>
---
Anchors Aweigh (1945) - Gene Kelly, Frank Sinatra (below, click on him for pictures), Kathryn Grayson

This musical makes me want to slug Kathryn Grayson. So slug her. It's still good. Great songs, and this is the one where Gene Kelly had to teach Frank Sinatra how to dance (off screen). One of the better Kelly-Sinatra musicals. Score includes "If You Knew Susie", Sinatra's "I Fall in Love Too Easy", "She Finally Got Her Kiss", and "The King Who Couldn't Dance" where Gene Kelly dances with Jerry the Mouse. Rating: 7 stars
---
Take Me Out to the Ball Game (1949) - Gene Kelly, Frank Sinatra, Esther Williams, Betty Garrett, Jules Munshin
Ah, good. Very entertaining. Kelly and Sinatra are baseball players during the season and vaudevillians, well, off-season. Great songs, like "O'Brien to Ryan to Goldberg" and Kelly's "The Hat My Dear Old Father Wore Upon St. Patrick's Day" (or something like that). Rent it. Buy it. See it. It's very worthwhile. Rating: 8 stars
---
On the Town (1949) - Gene Kelly, Vera-Ellen, Frank Sinatra, Betty Garrett, Jules Munshin, Ann Miller, Alice Pearce (I didn't even look that up!)
Okay, I guess. Kelly sees a picture of Vera-Ellen and decides to look for her. Everyone pairs off, leaving Gene Kelly all alone to search. They spend ~100 minutes looking for her, and it seems like 5 minutes. Another movie of Navy men on leave. Good songs, like New York, New York. Why not watch it. It's entertaining, but slow (or should I say, fast?). Rating: 6 stars
Note (added 4/16/97): I think this was the only time I -agreed- with critic Pauline Kael. Huh. What can I say -- the other critics (Leonard Maltin, for example) loved this, as did some of my e-pals. (Most say it's better the second time you watch it.) Well, whatever.
Note (6/26/98 -- yeah, yeah, I know, I know, pitiful): Should I even bring up the fact that the Bernstein score was, like, nearly completely cut (except for the theme (we all know That Theme, don't we?) and "Come Up to My Place" (which (plug plug plug) I have a very swingin' version of on my CD -- "Leonard Bernstein's New York" -- with groovy stars performing the songs, like Richard Muenz, Judy Blazer, Donna Murphy, Mandy Patinkin, and some Audra MacDonald girl (that was sarcasm -- she's one of my faves =)) -- get it! =) -- it has several songs from the ORIGINAL (cough cough) On the Town -- like "Some Other Time" and "Ya Got Me", both of them rule).
---
Music Man (1962) - Robert Preston, Shirley Jones
Very good. One of my first musicals. Score by Meredith Willson includes "76 Trombones", "Goodnight, My Someone", "Till There Was You"). A con-man (Preston) comes to town pretending to start a band with the kids. Rating: 6 1/2 stars
Note (added 4/16/97): Despite popular argument, "Till There Was You" was not an original Beatles song. But so you're not completely blown (J/K :>), it was their only song from a musical.
---
Holiday Inn (1942) - Bing Crosby, Marjorie Reynolds, Fred Astaire , Virginia Dale
Wonderful Irving Berlin musical, with songs like "Easter Parade", "White Christmas", Astaire's wonderful "Let's Say it With Firecrackers" and a very funny and entertaining ballet for George Washington's Birthday. First, Astaire steals Crosby's first girlfriend, who leaves him for a rich Texan. Crosby finds someone else, but then Astaire comes to Crosby's inn and finds her. Crosby tries to sabotage Astaire's plan to take her away. Surprise ending! Rating: 8 stars
Note (added 11-15-96): This holiday season is when I'll be glad to own this movie; it'll be checked out from Thanksgiving on! Really, this is a swell movie. See it.
Another note added 30 seconds after the first note was added: And more swell songs! E.G.: "You're Easy To Dance With", "I'll Capture Her Heart", and "Be Careful, It's My Heart". If you haven't noticed, the director of this film is the infamous Mark Sandrich (of Top Hat and other Fred and Ginger flips <isn't flips a great word? I mean flicks. But you know that.>). But there's my motto: You can never have too many Berlin tunes in one movie. :>
And right after Note #2: When I convinced my mom to watch this (or part of this; she thinks musicals are corny, and can't stand Fred Astaire), we were watching "You're Easy To Dance With" (Fred always gets his chance for tails, doesn't he?) and my mom says, "That looks like fun." How original. :>
And 5 minutes later (gee, I could've just combined these): For the drunk dance, Fred had (I think this first numbers accurate) 2 bourbons, then one before each of the next takes. Luckily, it only took seven takes.
Note #5 (1 month later): These stars almost weren't put together. Everyone agreed it would cost too much to have both Bing Crosby and Fred Astaire in a film together. Mark Sandrich, director, explained the situation to Fred, who decided to get paid much less than his usual $100 thousand dollar movie fee. Of course, he did get a percentage of the profit....
---
Oklahoma! (1955) - Gordon Macrae, Shirley Jones's film debut
Oh, great. Here I am listing all of these RKO and MGM musicals and not one Rodgers and Hammerstein. Well, here it is. Wonderful ragtime and western music. Highlight: "Surrey with the Fringe on Top" and cowboys imitating the people they saw in the movies by doing an elaborate tap dance routine in "(Everything's Up to Date in) Kansas City." If there is one reason why I would recommend this, it is the wonderful score. Rating: 7 stars
---
Yankee Doodle Dandy (1942) - Starring James Cagney, Joan Leslie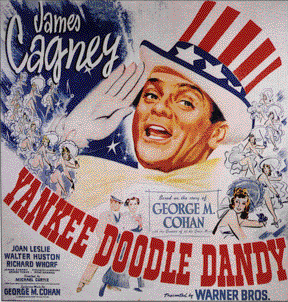 This is one of the best musicals that I have ever seen. It's a musical about the life of George Michael Cohan. The music is by, of course, George M. Cohan, which includes "Yankee Doodle Dandy", "Mary", and "Give my Regards to Broadway". Wonderful quote: "My mother thanks you, my father thanks you, my sister thanks you, and I thank you." Rating: 9 stars
---
Bye, Bye, Birdie (1963) - Janet Leigh, Dick Van Dyke, Jesse Pearson, Ann-Margret
Film version of a Broadway musical. This is about an Elvis-like singer who gets drafted, and a songwriter decides to have him give one of his fans a farewell kiss -- but not if her boyfriend can help it. Good songs, like "One Last Kiss", "What's the Matter With Kids Today?", "Lot of Living to Do", "Ed Sullivan." Watch it. Rating: 7 stars
---
Singin' in the Rain (1952) - Gene Kelly, Donald O'Connor, Debbie Reynolds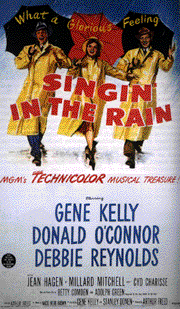 The greatest musical of all time!!!! This musical is about Debbie Reynolds dubbing somebody's singing voice, but actually, Debbie Reynolds's voice was dubbed by Betty Royce for the song "Would You"! Wonderful songs, like Donald O'Connor's "Make 'em Laugh", Kelly-O'Connor duet "Moses Supposes", and Gene Kelly's "Singin' in the Rain". Rating: 10 stars
Note (added 1-6-97): I hear Irving Berlin got really ticked off at Arthur Freed when he heard "Make 'Em Laugh". It's a complete rip-off of Cole Porter's "Be a Clown" from The Pirate, with Gene and Judy. Berlin suspiciously asked Freed, "Who wrote that?", at which Freed kindly told him to get lost.
PLEASE PLEASE PLEASE PLEASE PLEASE go to my re-review of this! :>
---
Guys and Dolls (1955) -
Starring Marlon Brando , Jean Simmons, Frank Sinatra, and Vivian Blaine

Wonderful movie. I will now perform the amazing feat of describing this movie in one sentence. Sinatra bets gambler Brando $1000 dollars that Brando cannot take Simmons, a mission worker, to Havana the following day, so that Sinatra can get the $1000 and pay Joey Biltmore so that he can get consent to hold his "oldest established permenant floating crap game in New York" because Sinatra is trying to dodge both Lt. Brannigan, who is try to catch Sinatra and his crap game in action, and his (Sinatra's) fiance of 14 years, Blaine, who is also pressuring him to give up the crap game and get a real job. Whew! And that was explained in the first five minutes! The only movie I ever bought (opposed to recorded from AMC). Gene Kelly was originally wanted for the role of Sky Masterson, but MGM wouldn't release him (this is a Samuel Goldwyn film). See it. Rating: 8 stars
---
Easter Parade (1948) - Starring Fred Astaire, Judy Garland, Ann Miller, Peter Lawford, co-starring Jules Munshin
Astaire's dancing partner, Miller, leaves him, so, in order get Miller back, tells Garland that he wants her to be his partner, but he soon finds that he doesn't need Miller. Produced by Arthur Freed. Score by Irving Berlin includes "Steppin' Out with my Baby", "Easter Parade", "Drum Crazy", "I Love a Piano", "A Couple of Swells", "Happy Easter", and "It Only Happens When I Dance With You". A wonderful romantic musical. Gene Kelly was originally the star, but broke his ankle and recommended Astaire. This was shot while Garland was a little psycho; she was jealous because her husband Vincente Minnelli spent too much time teaching Gene Kelly (the original star) one of the dances. She got through this movie only with the coaching of Astaire. (Hey, you should have heard about her in Summer Stock with Gene Kelly!)I got this because Finian's Rainbow was taken out (I'm going to Prime). Rating: 10 stars
---
See my review for Follow the Fleet on the sequel page!
---
Three Smart Girls (1936) - Introducing Deanna Durbin, with Barbara Read and Nan Grey
Durbin, Read, and Grey star as sisters who haven't seen their father in 10 years. When they hear that he is engaged, they go to visit him. Durbin then tries to get her original parents back together. Score includes "Someone to Care for Me" and "My Heart is Singing". Rating: 7 stars
My note, added 8-30-96: I sent Deanna Durbin a fan letter, and she sent me back a letter personally typed by her to me, and an autographed photo!
---
The Band Wagon (1953) - Starring Fred Astaire, Cyd Charisse, Nannette Fabray, Oscar Levant, and Jack Buchanan
Plot good, story okay. I still loved this movie. In the beginning an auctioneer auctions off his hat, cane, and gloves from "Floating Up to Panama", a play on words of his earlier movie, "Flying Down to Rio". (My parents thought I was weird when I laughed.) The music is the best part, if not the reason to rewatch it. Score by Deitz and Schwartz includes "That's Entertainment", Astaire's (need I say) wonderful "Louisa", the jazz-dance murder mystery show "Girl Hunt", Astaire-Fabray-Buchanan triplet "Triplets", and Fabray's "Louisiana Hayride". Well, what can I say. That's Entertainment! Rating: 8 stars
P.S. Perfect crew, perfect cast. Script by Betty Comden and Adolph Green, music by Dietz and Schwartz, produced by Arthur Freed, and directed by Vincente Minnelli! This had some of the same people working on this movie as in An American in Paris, so there is a resemblance (e.g. "I Got Rhythm" and "Shine On Your Shoes").
---
Swing Time (1936) - Fred Astaire, Ginger Rogers, Victor Moore, Helen Broderick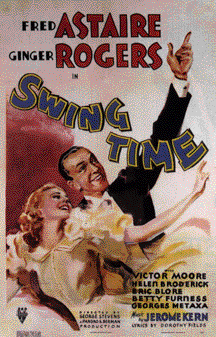 Astaire is gambler John "Lucky" Garnett. His fiancee's father says that he must go to New York and earn $25,000 if he wants to marry her. In New York, he sees Penny Carrol (Ginger Rogers) and falls in love with her, while he has his fiancee back home and the bandleader is in love with Rogers. Score by Jerome Kern and Dorothy Fields includes the fantastic "Pick Yourself Up", the wonderful "A Fine Romance" (I'm running out of adjectives), "Never Gonna Dance", which is perhaps the most romantic dance by Fred Astaire and Ginger Rogers, the award-winning "The Way You Look Tonight", and the ecstatic tribute to Bill "Bojangles" Robinson, "Bojangles of Harlem". In my opinion, this is the best Astaire-Rogers musical I've ever seen! Rating: 10 stars
Note (added 7/6/97): The beginning, you know, when Fred-- er, Lucky, is dancing with the other guys, and you only see the end of the dance -- that was originally the song/dance to "It's Not in the Cards", which is used in the background for some of the first few scenes. Also, when Ginger is washing her hair, she's using... whipped cream. :> And, another thing, Ginger was near thrilled to have George Stevens (Shine, Giant) as the director for this movie -- unlike Mark Sandrich, who didn't particularly... what's the word... like her, Stevens was pleased to have her input, and he focused more on Ginger that Sandrich did.
---
For Me and My Gal (1942) - Gene Kelly, Judy Garland, George Murphy
How could I. This was one of my first musicals(before Singin' in the Rain), and I forgot to review it. Well, now I am. Very good (the movie). Garland and Kelly are a dance team (not in the beginning). That is, until Kelly gets drafted, which is also right before they play the Palace. You know. Vaudeville. Gene Kelly's film debut. A strange resemblance to Easter Parade.... Score includes "For Me and My Gal", "Beautiful Doll", "How You Gonna Keep Him Down On the Farm (After He's Seen Paris?)". Rating: 8 1/2 stars
Note (added New Year's Eve, 1996): That's Keenan Wynn as the guy at the Palace.
---
High Society (1956) - Bing Crosby, Grace Kelly, Frank Sinatra (all-star cast)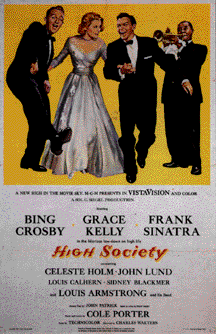 Crosby and Kelly are divorced, and Kelly is engaged to be married to John Lund the following day. Without warning, reporters Sinatra and Celeste Holm arrive to cover the wedding. Philadelphia Story remake. Score by Cole Porter includes Crosby-Sinatra duet "What a Swell Party This Is", "Did You Evah?" and "You're Sensational". Rating: 4 stars (see Philadelphia Story)
Note (6/26/98 -- I'm on a plugging spree, check my note for On the Town): Okay, so I'm not crazy about the flick -- there's a REALLY grooving B'way musical of this (that completes the mediums this show has covered, doesn't it? B'way play, movie, movie musical... yep). So, you know, check it out if you're in the area. (Yeah, Cynthia, this one's for you. ;>)<
---
An American in Paris (1951) - Gene Kelly, Leslie Caron, Oscar Levant, George Guetary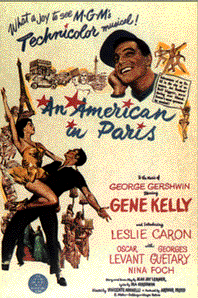 Kelly is artist Jerry Mulligan, who travels to Paris to try to sell his paintings. Directed by Vincente Minelli and produced Arthur Freed (who doesn't like on location filming). Score by George and Ira Gershwin includes "I Got Rhythm", "S'Wonderful", "Our Love is Here to Stay", Guetary's "I'll Build a Stairway To Paradise", concludes with 18 minute ballet choreographed by Gene Kelly. Did you ever notice how George (Gershwin) gets all the credit for the songs? Rating: 7 stars
Note: You can either look at the note for The Band Wagon or look at this to see my comment. A lot of the same people that worked on this also worked on The Band Wagon, so there is a resemblance (e.g. "I Got Rhythm" and "Shine On Your Shoes").
---
Grease (1977) - Starring Olivia Newton-John and John Travolta
Eh. My first musical. Sandy and Danny meet during the summer, and think they'll each be going one's own separate ways, but Newton-John shows up at Travota's school. Of course, with all of Travolta's friends around, he's not about to show his love in order to remain "cool". Songs include "Summer Love", "Grease", and "We'll Be Friends Forever" (or something like that). Rating: 4 stars (See Philadelphia Story - Yes I mean that!)
---
Sound of Music (1965) - Julie Andrews, Christopher Plummer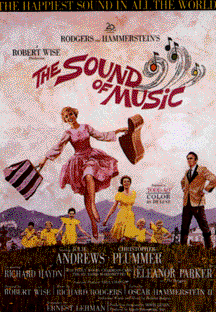 Hmmm.... Julie Andrews is Maria, an irresponsible nun. She is assigned as a governess at a house with 7 kids, from ages 5-16, and a father (Plummer) who hasn't let his children sing or dance since their mother died 5 years ago (the way I figure, if they have one five year old, you know). Score by Rodgers and Hammerstein includes "Maria", "The Yodel Song (Yodel-ay-he)", and "So Long, Goodnight". Good songs.... Rating: 6 stars
---
Newsies (1992) - Christian Bale, Bill Pullman, Robert Duvall
A show about newsies on strike. Well, the songs are good. If your a Christian Bale fan, you'll probably like this movie. Score by Alan Menken and Jack Feldman includes "Santa Fe", "Carrying the Banner", "Seize the Day". Rating: 7 stars
Note (6/26/98): All RIGHT already, ya Baleheads (yeah, I know, talking to myself) -- I DO like this, and I DO think that it can swing, but, well... I don't know. It's good, really. I mean... I think it's worthwhile to see... not exactly, you know, AFI material (yes, I AM slightly offended at some of the flicks overlooked by their top hundred....), but it's good. You know. (And, for future reference, this note was aimed at Fiona. Feel honored.)
---
Tea for Two (1950) - Doris Day, Gordon MacRae
Remake of No, No, Nannete. Day plays Nannete, of course, who bets her uncle $25,000 that she has to just say no for 24 hours. I guess it takes place in the '20s or '30s or something like that. They all were doing the Charleston to "Oh, Me, Oh, My, Oh, You".... Score includes "Tea for Two". Rating: 7 stars
---
Top Hat (1935) - Fred Astaire, Ginger Rogers, Fred-Ginger regulars Edward Everett Horton, Erik Blore, Helen Broderick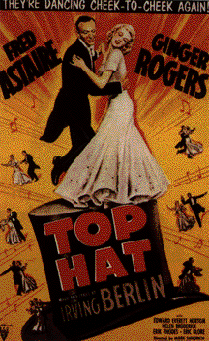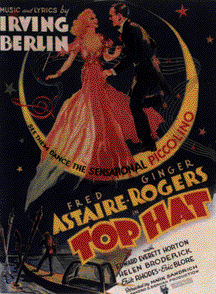 Ah! Could it be? A practically perfect movie? I think so! I wasn't that crazy about the mistaken identity plot, but that doesn't take away from the wonderful and romantic Irving Berlin score, or the energetic dancing of Fred and Ginger! Score includes the ever-famous "Cheek to Cheek" (go to Past Perfect for info on this classic), the formal "Top Hat, White Tie, & Tails" (no pun intended), the romantic "Isn't This a Lovely Day (to be Caught in the Rain)", Fred's fantastic "No Strings (I'm Fancy Free)", and Ginger's wonderful song solo (both dance) "The Picollino", for which I must give Irving Berlin extra credit, on account of the hammery between-verse tune and the classy words and melody. Not one thing bad with this one (forget the plot; it's a good story), so no complaints! If you are going to see a Fred-Ginger movie (or any movie, for that matter), this is the perfect one to see! Not enough "good" adjectives to fully describe this movie to the extent it deserves! I'll be right back; let me get my thesaurus... splendid! Super! Wonderful! Fantastic! Vigorous! Humorous! The true Astaire-Rogers style, if ever there was one! Okay, here's the rating! I'm so happy...! Rating: 10 stars - if you don't believe me, go read through those adjectives again! Happy, happy, joy, joy...!!!!!
Note (6/26/98): I wasn't sure if I made myself clear. I, uh, sorta like this movie. O=>
---
Good News (1947) - Peter Lawford, June Allyson
This is a show with a good story, I guess. It wastes all of the songs on the beginning, so there is only, about, one song in the last thirty minutes. It's packed with people trying their best to carry a tune, or at least trying to make it sound enjoyable, but Allyson is the only one who manages to sound passable. Most of it is a waste, as if people were trying to make the movie an extra hour long, so they added songs every two minutes, to where there weren't any left except for one of the only pleasant tunes, "Varsity Drag", which was pretty obviously added at the end so that people would sit through the whole thing. When I first saw that dance number in That's Dancing, I think it was, I was saying to myself, Boy, Nicholas Cage sure can dance (Peter Lawford holds a strange resemblance). Mel Torme was slightly better in this one than in one of his first movies, filmed four years earlier, Higher and Higher. I think Peter Lawford was much better in Easter Parade, with his wonderful solo, "Fella With an Umbrella". In other words: Good News? Not exactly. Good show? No. Good riddens? Please. Rating: 5 stars
Note: This supposedly took place in 1927, so I found the best part was watching everyone doing variations of the Charleston in practically every song. I did enjoy some, though, as long as they sang in choruses, such as "Be a Lady's Man", which was a very good quintet.
Note #2 added (Friday the 13th) September, 1996: I really actually practically virtually loved most parts of the score (I know I'm making no sense); I rewatched "Varsity Drag" so many times I lost count, and "Be a Lady's Man", well, I love harmony, swing-type tunes, so I loved this one. It's pretty much the majority of the songs and the plot and story.
And Note #3 (added 11-15-96): I heard, the original cast was (fright-fully) Mickey Rooney and Judy Garland, but when that didn't work out, it was going to be the great Van Johnson opposite June Allyson. He was unavailable, thus Peter Lawford took the lead. One point on Peter's side: He was fluent in French, and June couldn't speak a word of it, so he gave her a few lessons ahead of shooting time (so June could pretend to teach him French). What a mix-up.
---
Stowaway (1936) - Shirley Temple, Robert Young, Alice Faye
Enjoyable movie, with jokes, along with an interesting impression of Bing Crosby. Score includes "S-M-I-L-E", which includes a slight reference to Ginger Rogers and Fred Astaire, of which I rather enjoyed. Rating: 7 stars
---
State Fair (1945) - Jeanne Craine, Dana Andrews, Dick Haymes, Vivian Blaine (Guys and Dolls?)
Jeanne Craine had a wonderful performance, playing opposite Dana Andrews, but I don't think I could stand another Dick Haymes movie. Okay, he was good. He just had an interesting part in this movie. As for Vivian Blaine: eek! If you've seen Guys and Dolls, you probably know Adelaide (Vivian Blaine's character from Broadway and the movie) is a a girl with shoulder-length red hair on Broadway, but had short, blonde hair for the movie (well, she was blonde on Broadway in 1950); well, I saw the movie Guys and Dolls first, so I was looking for her when I saw her name in the credits, just to see if I could recognize her. Well, it took me a while to figure out that the redhead who Haymes fell for was the same lady! Now for the movie. Great! And if I like this, you should see it, because I'm not one for Rodgers & Hammerstein. Of course, this was 1945. Big difference. I liked the story behind Craine and Andrews's romance, but I was disappointed with Haymes-Blaine. Either way, wonderful score! Score by guess who includes "Our State Fair is a Great State Fair", "Grand Night for Singing", "I Owe Iowa", "Isn't Kind of Fun".
Rating: 8 stars
Note (added 1-6-97): Dana Andrews gives a swell performance in 1944's Laura -- a must-see!
Note (added 3-8-97): This is one of Dana's, like, only comedic performances! See it!
---
Three Little Words (1950) - Fred Astaire, Vera-Ellen, Red Skelton, Arlene Dahl, Keenan Wynn, Gloria DeHaven, Debbie Reynolds
Okay, people. Be that way. This one's next.
---
Singin' in the Rain (1952) - Gene Kelly, Donald O'Connor, Debbie Reynolds, Jean Hagen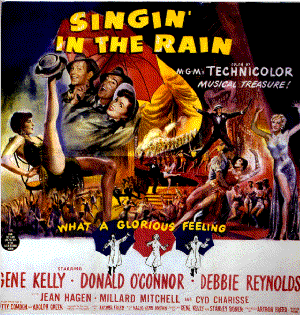 Yes, I do realize that I already rated this, but I just resaw it, and I felt it necessary to rereview it. If you don't want to reread this, then don't. But, anyways, this is still one of the greatest movies ever (next to Top Hat)! Score still includes "Moses Supposes", which was my personal favorite, I actually memorized the whole saying, "Good Morning", originally used in one of those Judy Garland-Mickey Rooney musicals, I forget, "Singin' in the Rain", which is my sister's personal favorite, "Fit as a Fiddle and Ready For Love", and "You Were Meant For Me". Thank you again, thank you again. Rerating: 10 stars again
Note (added 1-6-97): I hear Irving Berlin got really ticked off at Arthur Freed when he heard "Make 'Em Laugh". It's a complete rip-off of Cole Porter's "Be a Clown" from The Pirate, with Gene and Judy. Berlin suspiciously asked Freed, "Who wrote that?", at which Freed kindly told him to get lost.
---
Flying Down to Rio (1933) - Introducing Fred Astaire and Ginger Rogers (as a couple), Dolores Del Rio, Gene Raymond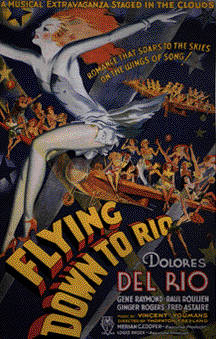 Yes, I realize this wasn't starring Fred and Ginger, but really. They only dance together once, the screenwriter has absolutely no imagination with the names (Honey? Fred Ayres?), and Fred has maximum 2 dances. It's embarassing. But the tunes are nice. Score includes "The Carioca", title tune, and (my favorite) "I Like Music (Music Makes Me)". Rating: 5 stars
Note (added Friday the 13, September, 1996): "The Carioca" led to the creation by, well, more famous songwriter, of songs like "The Piccollino" (Top Hat), "The Yam" (Carefree), and "The Continental" (Gay Divorcee).
Note (added 12-22-96): Okay, I'll give the names a break; this show's based on a book. And, after all, it is Fred and Ginger's first movie. Actually, it was almost Fred and Dorothy Jordan's first film together. Dorothy Jordan preferred to go on her honeymoon with Merian C. Cooper, making Flying Down to Rio Ginger's 20th film. I'd kick myself. And don't forget to see the reference to this movie in The Band Wagon ("Floating Up to Panama")!
---
Funny Face (1957) - Fred Astaire, Audrey Hepburn

For the hopeless romantic. Like me. Score is by George & Ira Gershwin, and it reuses some of the songs originally from An American in Paris. Still, some of the songs are either too jazzy or too, I don't know, peppy, like "Think Pink" (please don't) and "How Long Has This Been Going On" (Audrey shouldn't be allowed to sing in Greenwich, or Paris, or America, for that matter). But, other than that, it's great. It would have done just fine as a plain old regular movie, which is a compliment. Wonderful later score includes "He Loves and She Loves", "S'Wonderful". Rating: 7 stars
Note: The graphic at the beginning probably won't mean much until you see this. Well, skip that. Fred's character is a photographer.
---
Meet Me in St. Louis (1944) - Judy Garland, Margaret O'Brien, I'm a forgetful person - other star? Oh, yeah - Tom Drake, Lucille Bremer

Margaret O'Brien won an award - Best Child Actress of 1944. Weird. Anyways. Very good movie, I say. Judy plays Esther, and Lucille Bremer plays her sister Rose. Judy is in love with the boy next door, and Rose has a boyfriend living in New York, who she is waiting on to propose to her. Just before Christmas and the World Fair (setting - St. Louis, 1903), their father says he is transfered to New York, and they're all going to have to move away. Now that I think of it, Judy is the only one that sings.... Score includes "The Boy Next Door", "Trolley Song".
Rating: 6 stars
---
That's Entertainment, Part 2 - Hosted by Fred Astaire & Gene Kelly
I don't usually rate variety musicals, ones that are purely clips from other earlier shows, but I think this one deserves a standing ovation. Extra cast (ah, so many) includes Judy Garland and Margaret O'Brien ("Have Yourself a Very Merry Christmas" - from Meet Me in St. Louis), Gene Kelly, Donald O'Connor, and Debbie Reynolds ("Good Morning" - Singin' in the Rain), Fred Astaire (Steppin' Out With My Baby" - Easter Parade - the film editing, the film editing, ah, what will we ever do with these people? Oh, yeah, just forget to change the blue background to the floor....), Fred (again) and Judy (again) ("A Couple of Swells" - Easter Parade), Gene Kelly ("I Like Myself" - It's Always Fair Weather), includes Bobby Van hopping around for no particular reason visible, Gene (again) ("Broadway Melody" - Singin' in the Rain), and a wonderful tribute to the early contemporary songwriters, with "Wedding of the Painted Doll", which I enjoyed, a couple writing a famous tune, another couple writing a Gershwin song (just happens to be "Lady Be Good"), and a short scene from Three Little Words, which I surprisingly enjoyed, and which also revealed the "three little words" refered to as "you're a dope". Highly recommended. Rating: 7 1/2 stars (Hey, it's a collection of clips!)
---
Ziegfeld Follies (1946) -(The whole cast?!) Fred Astaire, Lucille Ball, Lucille Bremer, Fanny Brice, Judy Garland, Kathryn Grayson, Lena Horne, Gene Kelly, James Melton, Esther Williams, Victor Moore, Red Skelton, William Powell, with Edward Arnold, Marion Bell, Bunin's Puppets, Cyd Charisse, Hume Cronyn, William Frawley, Robert Lewis, Virginia O'Brien, & Keenan Wynn
Talk about an all star cast! I thought this was going to be a variety show, which is exactly (and the only reason) why I didn't rent this earlier. But it's not. William Powell relives his role of the great Flo Ziegfeld. Opening scene: St. Peter's Gate - you pass the future homes of Shakespeare and P. T. Barnum, then finally enter Zeigfeld World. And what awaits? Wonders of M-G-M greats! Fred Astaire opens the show and leads into "Bring On Those Beautiful Girls", which stars Lucille Ball, and briefly Cyd Charisse. Then comes Esther Williams in "Underwater Ballet". Then Keenan Wynn's hilarious "Number, Please". Then the show really gets on a role. My personal favorites are first of all "The Babbit & the Bromide" (Gene & Fred). What can I say? It's a hilarious mixture of competition, spite, and humor. And everyone knows that when two great minds come together, you get, well, one really huge great mind. And that's huge, considering the two great minds we're using. (By the way, I looked it up - Babbitt: an American businessman, bromide: a person who makes platitude [dull] statements. :> ) My second favorite? None other than Red Skelton's "When Television Comes" - I often quote his hilarious poems. :> Then, third, is "Just Give Him the Two Dollars", which stars Swing Time's Victor Moore and Edward Arnold. This also includes "Traviata", with James Melton and Marion Bell, and two acts with Fred Astaire and Lucille Bremer (I didn't expect two, and didn't like two, either). The first one, I forgot the title (I'm very forgetful), but I liked it a lot (for some reason, I am the only person who can just sit and watch people dance, e.g. [especially] tap, but this ballroom [I can handle Fred-Ginger, this was pushing the limit out there] got to be too much). The second was "Limehouse Blues", and I found more entertainment watching the people in the background dancing for pennies. I have never ever seen such a melancholy scene in a Fred Astaire movie, except for "Let's Face the Music and Dance", maybe, from Follow the Fleet, but at least that had a happy ending! They didn't even sing, just kind of marched around with paper fans. Weird. Geez, this must be the longest review I ever wrote! This might as well have its own homepage! But anyways, this includes great songs by Harry Warren & Aurthur Freed, George & Ira Gershwin, Ralph Blane & Hugh Martin, and Kay Thompson & Roger Edens. Produced by Aurthur Freed, directed by Vincente Minnelli, dance direction is by Robert Alton. Well, I'm proud. Rating: 8 stars
---
There's No Business Like Show Business (1954) - Ethel Merman, Dan Dailey, Donald O'Connor, Mitzi Gaynor, Johnnie Ray, Marilyn Monroe
Very, very good. Dan Dailey and Donald O'Connnor deserve awards for their acting in this (I don't know if they got any). Ethel and Dan play Molly and Terry Donahue, vaudeville parents in 1919. Donald is their youngest son, Tim, Romeo with a drinking problem. Mitzi is the middle child, the traditional who weds and has children, et cetera. Johnnie is the oldest, Steve, vaudevillian-turned-preist. Almost all the songs in this were previously used (they're all Irving Berlin, which guarantees a wonderful score), see note below, and if they weren't sung, they were played in the background - catch "Puttin' on the Ritz" at the club, and "Cheek to Cheek" in the dressing room. Also, the tune of "Alexander's Ragtime Band" was in the beginnning credits of Top Hat - just a clip - in this, they almost over-used it. Score includes "Heat Wave" (Blue Skies - done much better by Fred & Olga in that than by Marilyn in this), "Lazy" (It's Marilyn again - done better by Bing in Holiday Inn), O'Connor's wonderful "A Man Chases a Girl (Until She Catches Him)" (not prev. done, as I know of - couldn't have been done better, I think), "Alexander's Ragtime Band" (see above), title song, and "When the Midnight Choo Choo Leaves for Alabam'" (Easter Parade - done better in this, I think - done twice in this show, first by Ethel and Dan, then by their children Donald and Mitzi). Rating: 8 stars (It's depressing, kind of, with Tim's drinking problem, but a must see for anyone.)
---
The Kid From Brooklyn (1946) - Danny Kaye, Virginia Mayo, Vera-Ellen, Walter Abel, Steve Cochran, Eve Arden
Danny Kaye is a milkman. Wow. When his horse is about to have her baby, he runs to one of the apartments he's delivering milk to, and runs into an unemployed singer (Mayo), whom he falls in love with. Luckily, his sister is a dancer at a club (Vera-Ellen - she seems to be graying....) and gets her a job. But, when leaving the club, Danny gets into a fight with midweight boxing champ Cochran and accidentally gets him knocked out. I guess this is a musical; luckily, Danny doesn't sing - it's all Virginia and Vera-Ellen (is this good? Vera-Ellen should stick to, well, plain movies?). Virginia was good in her singing, but Vera-Ellen was trying to tap in ballet-like shoes, and I never could stand her singing (On the Town, Three Little Words). I loved the part where Danny was in the rink with "Spider" trying to fight, but couldn't, so Eve started singing and he waltzed around him.... But anyways. I guess it's overall pretty good, but would have made better as a regular movie. Score includes "Josie", "I Love an Old-Fashioned Song". Catch Jerome Cowan, previously Ginger's "boss" in Shall We Dance, as the announcer at the championship fight. And Walter Abel was in Holiday Inn, too. :> Rating: 7 stars
---

Eek! Too many musicals for a homepage! Catch more in my part two of this, Mallory's Musical Homepage: The Sequel!
---
Kudos to Encore Plex, for saluting Gene Kelly on February 2nd, 1997, the one year anniversary of his death. Starting at 1 o'clock p.m., they alternately showed Take Me Out to the Ball Game and Singin' in the Rain until the night. Great going!
Kudos to the Academy! What do these movies have in commons: The Band Wagon, It's Always Fair Weather, and Merry Andrew? Michael Kidd! Last night, March 24, 1997, Kidd was awarded a special oscar for achievment in choreography and directing. Congratulations!
---
Just go here for reviews of B'way CDs.... =>
---

Ah! The MUSIC! Looking for some songs by, say, Fred Astaire or Bing Crosby? You're lucky you came here! Do you just love to listen to Fred Astaire songs, such as "No Strings", "Isn't this a Lovely Day (to be Caught in the Rain)?", "Top Hat, White Tie, and Tails", "Cheek to Cheek", "The Piccolino", "Bojangles of Harlem", "Beginner's Luck", "Slap That Bass", "They All Laughed" (don't worry, people, it's a different version in the movie =>), "Let's Call the Whole Thing Off", "They Can't Take That Away From Me", "Shall We Dance?", and "I'm Putting All My Eggs in One Basket"? Well, TOO BAD! JUST KIDDING! For info on these songs and more (on ONE CD!), CLICK HERE!Oh, yeah. Click there for Bing Crosby, Frank Sinatra, etc., etc. ****Have you gotten the CD with such songs by Frank Sinatra like "The Music Stopped", "What a Lovely Way to Spend an Evening", and "I Couldn't Sleep a Wink Last Night"? Well, if you have, E-MAIL ME!**** Do you love romantic and, well, fun songs like "I Could Have Danced All Night", "Some Enchanted Evening", "Seventy-Six Trombones", "How Are Things in Glocca Morra?", and "Sit Down, You're Rocking the Boat"? ***THEN CLICK HERE*** Have fun listening to wonderful swing songs! Oh, by the way, does anyone know the Astaire? If so, tell me how to do it!
---
Okay, like, this is the music article! Here I'll review CDs I actually already own. First of all:
Top Hat: Hits From Hollywood Fred Astaire. Great, if you don't mind hearing the sound of his tapping during music-only parts. I'd say this is one of the best Fred tapes you can buy.
The Boston Pops Orchestra and John Williams Salute Gene Kelly, Fred Astaire, and Judy Garland The charicatures on the cover offended me, but, after you get past that, it's pretty good. Instrumental, of course (it's not Boston Pops Orchestra), but I still liked it. Songs include Slaughter on 10th Avenue, An American in Paris Ballet, and a tribute each to Judy Garland and Fred Astaire.
Singin' in the Rain Soundtrack The songs are, of course, straight from the movie, so you don't have to worry about them changing the lyrics simply to confuse you. My copy closes with the radio broadcast of Singin' (the song), actually a broadcaster trying (note trying) to sing it. Pretty funny, I thought. Of course, being me, my absolute favorite song from this movie in "Fit As a Fiddle (and Ready For Love)". If you loved the movie, you'll love this, too.
Oklahoma! Soundtrack Oh, boy. Let's put it this way, my copy was "the original London cast"; if you've only seen the version with Gordon Macrae and Shirley Jones, you're in for a shock - Howard Keel's voice is a lot deeper! Still fair Rodgers and Hammerstein songs.
Great American Songwriters (5 CD set) - Cole Porter, Irving Berlin, George and Ira Gershwin, Rodgers & Hart, and Johnny Mercer Good. These are the only CDs that I can put all five in my CD player at random and not be disappointed with any song that comes up. Performers of the songs include Fred & Adele Astaire, Ethel Merman, Artie Shaw and his band, Rod McKuen, Jeri Southern, Lena Horne, and Frank Sinatra. Songs include "There's a Small Hotel", "I Could Write a Book", "One For My Baby", "Change Partners", and (my favorite, performed by Fred & Adele Astaire) "I'd Rather Charleston". By the way, this CD set is what I call a great bargain; I got all these CDs for a total of less than $30!
---
By the way, did you realize George Gershwin died in 1937? In class, we're talking about King Tut dying young and I'm thinking, "And George Gershwin was only 39...."
---
No Longer Coming Soon: Wizard of Oz ( Judy Garland? Ray Bolger? Jack Haley? I think it counts.) Of course, it's on my sequel homepage....
Go to my disclaimer
WANTED: REVIEWS OF THE STORY OF VERNON AND IRENE CASTLE! NO, HOW ABOUT BARKLEYS OF BROADWAY! TELL YOU WHAT, DON'T SEND ANYTHING. JUST BE THAT WAY. I'LL JUST KEEP WAITING UNTIL FRED ASTAIRE OR GINGER ROGERS' NEXT BIRTHDAYS.
If you have any comments or suggestions (or even additional reviews), e-mail me.
I'm found in:
There's No Place Like

, There's No Place Like

....
(I couldn't help it - I love that show. Great cast. Judy, Jack, Ray....)
---

This page created with Netscape Navigator Gold